"Not An Offensive Threat": Biden Downplays US Tanks In Ukraine As Russia Warns Decision Is "Extremely Dangerous"
Update(1242ET): Biden in the remarks while flanked by his top defense officials unveiled an international tank coalition of nations in support of Ukraine, including that the US will send 31 Abrams tanks.
"Today, I'm announcing that the United States will be sending 31 Abrams tanks to Ukraine, the equivalent of one Ukrainian battalion," Biden said from the White House.
"Today's announcement builds on the hard work and commitment from countries around the world, led by the United States of America, to help Ukraine defend its sovereignty and its territorial integrity," Bided continued. "That's what this is about, helping Ukraine protect and defend Ukrainian land. It is not an offensive threat to Russia. There is no offensive threat to Russia. If Russian troops return to Russia … where they belong, this war would be over today." 
He emphasized Germany's central role in its own decision to send and authorize Leopard 2 battle tanks, and thanked German Chancellor Olaf Scholz. The name Germany was invoked consistently throughout the brief speech, leading to a reporter asking whether Germany "forced" the US take action on the Abrams. Biden responded "no" - Germany did not force him to change his mind. "We wanted to make sure we're all together," he said.
So the tank coalition is formed. Everyone who doubted this could ever happen sees now: for Ukraine and partners impossible is nothing. I call on all new partners that have Leopard 2 tanks in service to join the coalition and provide as many of them as possible. They are free now.

— Dmytro Kuleba (@DmytroKuleba) January 25, 2023
Biden sought to emphasize that the new Ukraine aid is not an offensive threat to Russia. However, we doubt that Moscow is going to see it that way. Per AFP:
President Joe Biden said Wednesday that the delivery of 31 US tanks and other large-scale military aid is to help Ukraine defend itself, but poses no "offensive" threat to Russia.

"That's what this is about: helping Ukraine defend and protect Ukrainian land. It is not an offensive threat to Russia," he said in televised remarks.
Ukraine in follow-up said that Western tanks "will determine our future victory". Biden went through a litany of allies which are standing by to ship both tanks and anti-air defenses to Ukraine. 
* * *
Earlier
Watch Live: President Biden is expected to address the Ukraine conflict in remarks from the White House scheduled for 12 eastern time. It's likely he'll formally announce Abrams M1 tanks for Ukrainian forces in a major escalation.
* * *
As expected, Russia is furious over the decision of the United States and Germany to authorize Western-manufactured advanced tanks for Ukrainian forces, calling it "extremely dangerous" and pointing out the unprecedented decision blows past Kremlin "red lines".
The Russian Embassy in Berlin communicated to the German government that the dangerous move "takes the conflict to a new level of confrontation." The statement asserted that it "contradicts the statements of German politicians about the unwillingness of the FRG [Federal Republic of Germany] to be drawn into it [the war]. Unfortunately, this happens over and over again."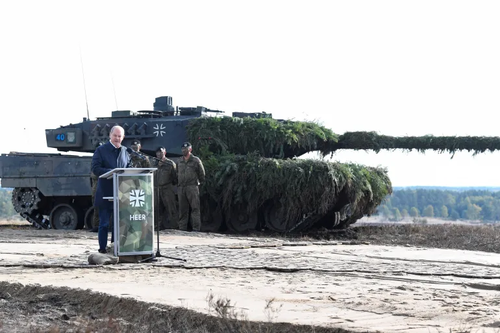 According to the latest media statements by US officials, the Pentagon is preparing plans to send approximately 30 M1 Abrams tanks to Ukraine as part of a $400 million deal. While the official White House announcement of the tank transfer is likely imminent, it's unlikely the tanks will be seen on the battlefield anytime soon.
It takes multiple months to over six months or more to train crews to effectively operate the Abrams. The same could also go for Germany's Leopard 2 tanks which will be provided. Both are considered sophisticated main battle tanks.
Chancellor Olaf Scholz confirmed his country's decision to send 14 tanks at a cabinet meeting on Wednesday. Crucially Germany will also allow other countries to send theirs, which is likely to provide the bulk of Leopard tanks. According to the latest from Politico:
Germany and its European partners plan to "quickly" send two Leopard 2 tank battalions to Ukraine — suggesting about 80 vehicles — the government in Berlin announced Wednesday, adding that Germany would provide one company of 14 Leopard 2 A6 tanks "as a first step."

Other countries likely to send Leopards to the war against Russia include Poland, Spain, Norway and Finland.
Alongside the Abrams, the initial transfers is also expected to include special recovery vehicles which assist in repair of tanks on the battlefield, or else which are capable of removing stalled tanks. 
German foreign minister declares war on Russia pic.twitter.com/C4cAqnZXhD

— Michael Tracey (@mtracey) January 25, 2023
Russian Foreign Minister Sergey Lavrov reiterated that this development shows that Ukraine and the West "has unequivocally stated its desire to inflict a strategic defeat on Russia." A ministry statement echoed his words in the following:
"There is a hybrid war going on against our country, which Foreign Minister [Sergei] Lavrov spoke about in detail just recently. Arguments about the red lines are a thing of the past," the foreign ministry told state news agency Tass, in comments translated by Google.

"The United States has unequivocally stated its desire to inflict a strategic defeat on Russia. It is impossible not to notice the reality," the ministry added, Tass reported.
And separately Putin spokesman Dmitry Peskov underscored the "absurdity" of plan by NATO allies to send tanks. He said in a Wednesday briefing, "now we can only state that there are currently no prospects for entering the diplomatic path."
"Unfortunately, we see a lot of manifestations of the conviction of a number of politicians, a number of experts, the military and so on, who believe that it is by continuing the war that the security of the continent can be ensured. This is an absurd belief," Peskov added.
Specifically addressing the US and German tank escalation, he said: "I am convinced that many experts understand the absurdity of this idea too. It's just that, in terms of technological aspects, this plan is quite a failure, and most importantly, it is a clear overestimation of the potential that it will add to the Armed Forces of Ukraine."
Tyler Durden
Wed, 01/25/2023 - 13:30