Will China 'Revenge Spending' Follow $2.6 Trillion Rise In Savings?
After a tough 2022, China's economy is poised for growth - as households are now sitting atop the biggest pool of new savings in history - having deposited $2.6tn in 2022.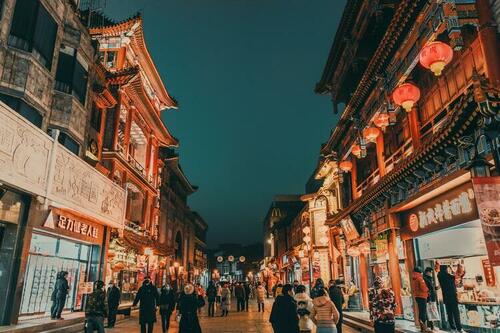 The bull case revolves around the notion of 'revenge spending' - an anticipated wave of pent-up demand fueled as consumers open their wallets for the first time in years.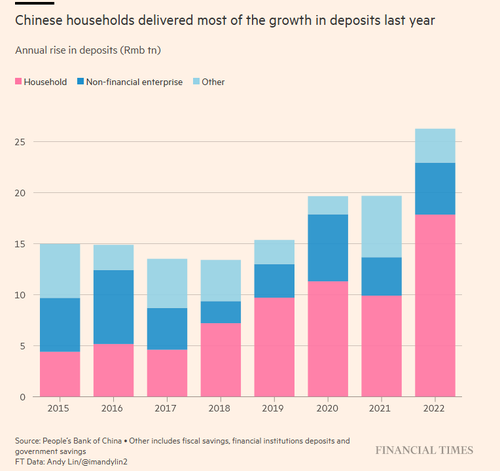 Last week the IMF indicated that it would upgrade its global economic forecasts based on China's reopening following three years of zero-Covid, while Morgan Stanley points to "sizeable excess household savings" to underpin their bull case.
Economists at Morgan Stanley recently forecast that China's economic growth would be more front-loaded this year, "mainly supported by consumption amid excess savings, improving household balance sheets . . . and recovery in the job market and income expectations".

They point to "sizeable excess household savings" of Rmb3tn to Rmb4tn built up "from an inability to spend amid Covid restrictions and/or precautionary savings". -FT
The bear (or at least less-bullish) case
Tempering expectations, however, both the Wall Street Journal and the Financial Times have their doubts over the level of 'revenge spending' in store.
"There's overestimation on the splash of Chinese consumers," said Alicia García-Herrero, chief Asia Pacific economist at French investment bank Natixis in a comment to the Times. "The excess savings won't be easily spent."
The WSJ, meanwhile, suggests that "Several key pillars of China's labor market—exports, the internet technology sector and the housing market—still face structural or cyclical headwinds. And finally, financial conditions remain relatively tight: Overall credit growth in December was weak, and bond yields and money-market rates have risen in recent weeks."
All of this means that while Chinese "revenge spending" will give a jolt to the economy this year, those expecting a U.S. 2021-style consumption bacchanalia might be disappointed. -WSJ
Also in the bear camp is analyst Lin Qingqi of state-run China International Capital Corp, who says that the "excess" savings in 2022 was more due to cautious households redeploying riskier investments - pulling cash out of underperforming equities and stashing it in the bank.
Luo Zhiheng, Yuekai Securities chief economist, has a similar prediction - and expects that some savings will be redeployed in "revenge spending," but that "There's still lingering uncertainty on the economic outlook, and people have a strong desire to save."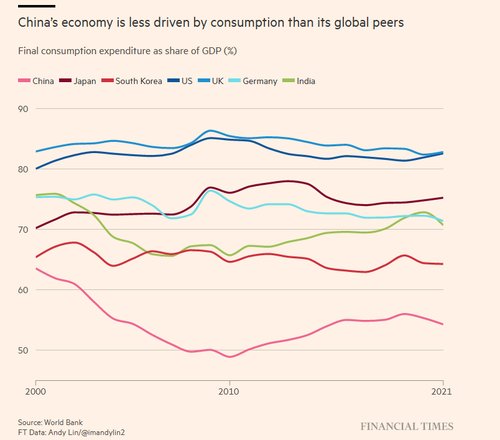 "China needs a strong force to drag the economy out from the vicious circle of weak demand and low expectation of income growth," said Zhang Jun, dean of the School of Economics at Fudan University. "If that can't [come from] exports in 2023, then fiscal stimulus such as strong government spending should step up and be that force."
Tyler Durden
Tue, 01/24/2023 - 23:45