Tesla 'Weaponizes' Price-Cuts To Crush EV Competition
Tesla, Inc. plans to report fourth-quarter results after the market close on Wednesday. Investors seek updates on the 2023 demand outlook after the EV company slashed prices on its cars worldwide. 
The automaker realized it's not only EV game in the 'carbon-free' town, as US, Europe, and Japanese car companies are ramping up EV production. Tesla slashed Model 3 and Model Y prices by up 20% in hopes of stoking demand as the entire EV market becomes saturated but also slows.
WSJ spoke with Stanly Tran, a 32yo California psychotherapist, who was on the waiting list to purchase a Ford Mustang Mach-E electric SUV but quickly canceled his reservation and bought a Model Y after hearing about the price cut. 
"'There's no way,'" Tran said when he heard about the price cut, adding the Model Y offered more range and a competitive price to the Mach-E. 
Tesla's move to squeeze competitors by sacrificing some of its strong operating-profit margins is a desperate attempt to increase sales but also roiled the secondary market for used Teslas. 
Meanwhile, dealers who sell Teslas from their used-car inventory say valuations on some models fell by several thousand dollars following this month's price cut. In the first 17 days of January, prices of 2020 model year or newer used Teslas were down about 25% from their peak in June of last year, about double the rate of the industrywide drop during that same period, according to Edmunds. -WSJ
One example of the price cut was the Model Y, now priced at $53,000, down from about $66,000. And if buyers qualify for the federal tax credit, they can loop off another $7,500.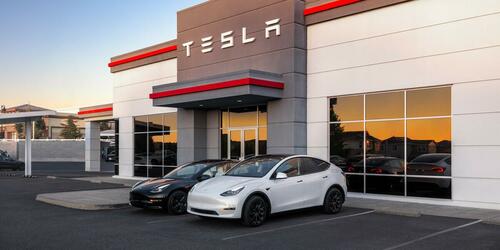 Bank of America analyst John Murphy said, unlike Tesla, traditional automakers have very thin profit margins or lose money on their EV lineups. He said such a move to reduce prices could spark a price war.  
"These price cuts are likely to make the business even more difficult, just as they are attempting to ramp production of EV offerings," Murphy said.
The lingering question is if the Elon Musk-led carmaker stoked demand. WSJ has some data on that:
The number of car shoppers researching Tesla surged following the early January price cut, research site Edmunds said. The Model Y was the second-most-researched vehicle on Edmunds' website for the week ended Jan. 15, up from 70th the week prior. The Model 3 moved up 36 spots.

Soon after the price cut, applications for financing of Tesla vehicles tripled at Tenet, a New York startup firm that provides financing to EV buyers. The influx of customers has remained elevated, Tenet Chief Executive Alex Liegl said.
One consequence of the price cut is that it might spark an EV price war with Detroit. Then there's the issue of angry car dealers and owners who saw their Teslas drop in price overnight. Such a move is a sign of desperation by Tesla. 
Tyler Durden
Wed, 01/25/2023 - 21:20