Greece Train Crash Kills Dozens, Minister Resigns, Station Manager Arrested
Update (1050ET):
Greek Infrastructure and Transport Minister Kostas Karamanlis announced that he would resign hours after the horrific train crash.
"When something this tragic occurs, we can't go on as if nothing had happened," Karamanlis said in a statement. 
"It's a fact that we inherited the Greek railway in a state that is not fitting for the 21st century. 

"In those three and a half years we made every effort to improve this reality. Unfortunately, those efforts were not adequate to avert such a tragedy," he added.
According to local authorities, a station manager has been taken into custody in relation to the crash, and a preliminary inquiry is currently ongoing. However, the individual's identity has not been revealed.
WSJ quoted local officials who said, "the death is the highest for a train crash in Greece since at least the mid-1960s."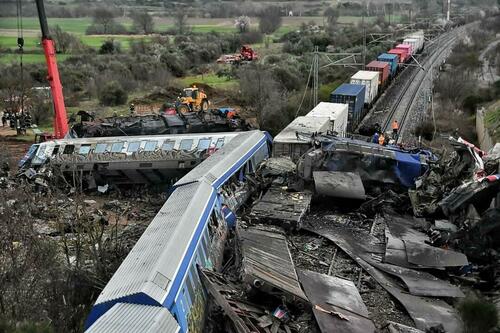 As of Wednesday afternoon, at least 38 people have been confirmed dead, and more than 80 injured.  
*   *   * 
In a devastating accident on Tuesday night, two trains collided head-on in northern Greece, resulting in the deaths of at least 36 people and leaving dozens more injured, AP News reported. The accident occurred near the town of Tempe in northern Greece. 
According to reports, a passenger train carrying 350 passengers and a freight train collided on the same track. Rescue workers and emergency services arrived on the scene and found a mangled mess of carriages and freight cars.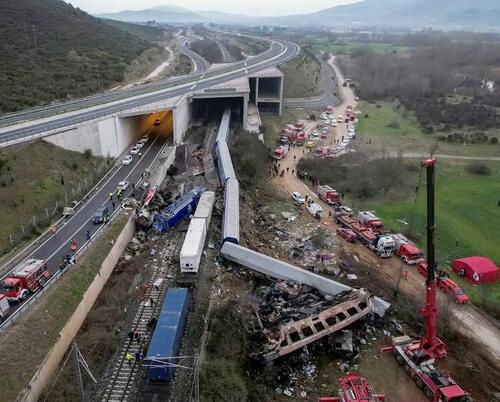 Rescuers have been combing through the twisted, smoking wreckage on Wednesday morning. Fire officials provided an update hours ago that 36 people had died in the crash, while another 66 were injured. 
LIVE: Site of train collision in Greece https://t.co/TuhHFrgLn5

— Reuters (@Reuters) March 1, 2023
AP spoke to survivors and one local about the horrific scene:
Survivors said the impact threw several passengers through the windows of train cars. They said others fought to free themselves after the passenger train buckled, slamming into a field near the gorge, about 380 kilometers (235 miles) north of Athens.

"There were many big pieces of steel," said Vassilis Polyzos, a local resident who said he was one of the first people on the scene. "The trains were completely destroyed, both passenger and freight trains."

He said dazed and disoriented people were escaping out of the train's rear cars as he arrived.

"People, naturally, were scared — very scared," he said. "They were looking around, searching; they didn't know where they were."
What's clear is both trains were on the same track. As to why, well, that remains a mystery, and police are questioning rail officials. 
Tyler Durden
Wed, 03/01/2023 - 10:50