Boost From Buybacks Is Getting Harder To Sustain
By Michael Msika, Bloomberg Markets Live reporter and strategist
Europe's robust buybacks have spread cheer among investors this earnings season, but a dimmer economic outlook and corporate caution could halt this supportive trend.
An index of companies that have posted plans to repurchase shares has jumped 14% this year, outperforming the broader European market. But margin pressure from inflation and the need to preserve cash are likely to make it harder for firms to sustain such programs from here on.
European companies have announced buybacks of nearly $70 billion so far this year, according to Bloomberg Intelligence. Energy firms, flush with cash after a surge in oil prices, and banks — where higher rates have boosted income — have led the way.
"A prolonged multi-year trend of buybacks increasing in Europe requires global growth recovery which will help earnings," says Bank of America quantitative strategist Paulina Strzelinska. While the number of new programs has risen by over 50% compared with the previous season, they are mostly concentrated in banks and energy, two sectors with "structural support to earnings," she adds.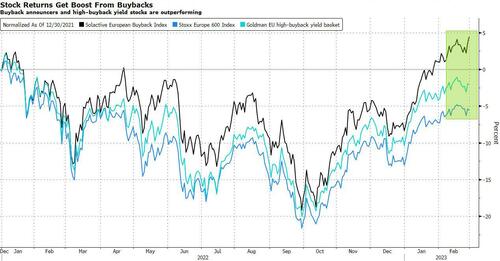 Buybacks, typically a less popular vehicle for shareholder returns than dividends in Europe, are gaining pace. The region's buyback yield last year rose to the highest since 2011, according to BofA. But some strategists warn the trend may not truly take hold unless accompanied by strong fundamentals, a scenario that looks shaky as bets for further policy tightening grow, making a recession more likely.
At the same time, sustaining a buyback policy has become key to stock performance. Stoxx 600 companies that announced new buyback plans this year had a one-day stock gain of 1.5%, while those that had large buybacks in the past two years — but suspended or didn't renew them — suffered a 3% decline on average, as a net of the index returns on the day, Bloomberg Intelligence strategists Laurent Douillet and Kaidi Meng point out.
Stocks such as chemical firm BASF, brewer Carlsberg and lender Societe Generale fell on disappointing buyback expectations this year. By contrast, carmaker Mercedes-Benz, oil major BP and distiller Pernod Ricard all surged after announcing new programs.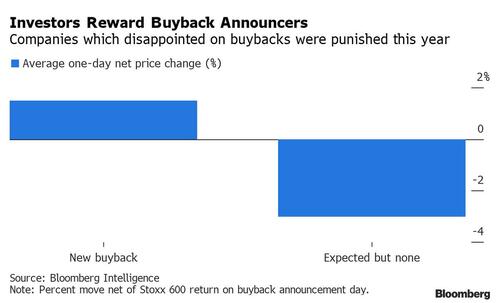 With European earnings expected to fall in 2023, some of these shareholders returns could be at risk. Margin pressure from inflation has forced companies including Carlsberg, BATS, ING and Deutsche Bank not to renew their programs. If the economy worsens, buybacks will also take a backseat to companies' need to preserve capital.
"The volume of net buyback continues to build up, currently at the 100th percentile since 1990," Morgan Stanley quantitative strategist Ronald Ho wrote last week. The key risk, according to him, is companies that have strong historical buybacks could change course unexpectedly and stop the program.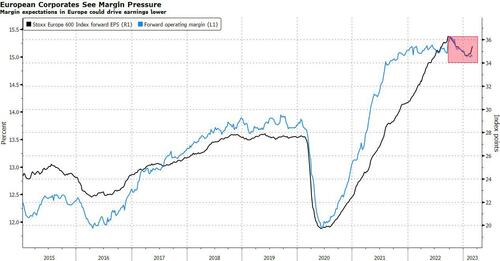 Buybacks in the energy sector, in particular, are expected to drop the most after companies spent €41 billion last year, while metals and mining companies have cut not only buyback plans but also their dividends on lower commodities prices and higher operating expenses, according to Bloomberg Intelligence.
Tyler Durden
Wed, 03/01/2023 - 13:08