Brazil Flouts Biden Pressure, Welcomes Iranian Warships To Rio Port
In defiance of US pressure, Brazilian authorities have allowed a pair of Iranian warships to dock in Rio de Janeiro this week. This ships were welcomed despite specific warnings from Biden administration officials. 
The IRIS Makran and IRIS Dena warships pulled into port on Sunday morning, Rio's port authority confirmed at the start of the week. Initially, just after his historic defeat of incumbent Blair Bolsonaro, far-Left President Luiz Inacio Lula da Silva had vowed to deny Tehran's request for the ships to stop in Brazil.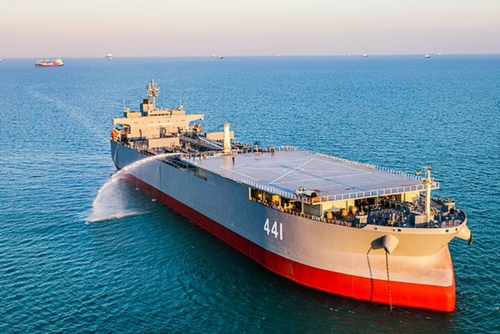 But that decision which was meant to appease the Biden administration just after Lula's election win was clearly reversed, with Brazilian Navy Vice Admiral Carlos Eduardo Horta Arentz having given his approval for the ships to dock between February 26 and March 4.
In mid-February US Ambassador Elizabeth Bagley ramped up the pressure on the Brazilian government in the following appeal: 
"In the past, those ships facilitated illegal trade and terrorist activities, and have also been sanctioned by the United States. Brazil is a sovereign nation, but we firmly believe those ships should not dock anywhere," she said.
Additionally, Under Secretary of the Treasury for Terrorism and Financial Intelligence Brian Nelson in a statement had earlier said "The United States will continue to aggressively target all elements of Iran's UAV program."
Photos confirmed the presence of the two Iranian ships at Rio's port...
Islamic Republic of Iran Navy Moudge-class frigate IRINS Dena (75) coming into Rio de Janeiro, Brazil - February 26, 2023 #irinsdena

SRC: webcam pic.twitter.com/mUILUUiTZ2

— WarshipCam (@WarshipCam) February 27, 2023
It's likely the Iranian ships have military drones aboard, and that they could be launched with ease. In early February, the threat of sanctions was invoked for any third party caught coordinating and cooperating with banned Iranian entities. 
"[P]ersons that engage in certain transactions with the individuals or entities designated today may themselves be exposed to sanctions. Furthermore, any foreign financial institution that knowingly facilitates a significant transaction or provides significant financial services for any of the individuals or entities … could be subject to U.S. sanctions," reads the statement.
Currently, Washington policy-makers in their thinking still adhere to the Monroe Doctrine in some form or fashion. They've long accused both Iran and its Lebanese proxy Hezbollah of making inroads into Latin America, also with charges of drug and weapons trafficking. 
Tyler Durden
Wed, 03/01/2023 - 17:20