Corporate Insider-Buyers' Strike Accelerates In February
In early January we noted that while the average investor continues to pour money into the equity markets like there's no tomorrow (aka, a reckoning for the everything bubble), corporate insiders are notably doing just the opposite.
"The thing that stands out right now is the lack of buying even though prices have come down so much. That's kind of a warning," Nejat Seyhun told the Wall Street Journal at the time.
In the six weeks or more since, the apparent buyers' strike by corporate insiders has continued.
Bloomberg's Elena Popina reports that as US stocks slid last month, only about 450 corporate executives scooped up shares of their own firms and more than four times as many insiders sold, data compiled by the Washington Service show.
That's the highest ratio of sellers versus buyers since April 2021.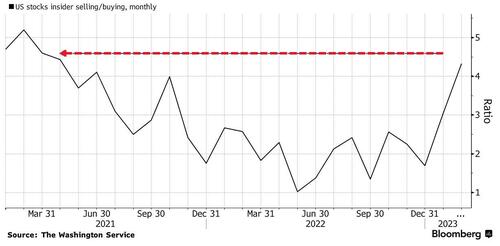 "The selling is around where it has been, but buying has yet to pick up this year," the Washington Service's analysts said by email.
"It seems like they are sort of in a wait-and-see mode, or perhaps selling portions of their holdings for increased liquidity."
As Popina noted, insider transactions may seem like an unlikely market-timing indicator, but they have a track record of providing an early read on market direction over the years.
The insider buy-sell ratio jumped in August 2015 and late 2018, with the former preceding a market bottom and the latter coinciding with one. In March 2020, corporate insiders' purchases correctly signaled the bottom of a bear-market rout.
Furthermore, despite all the Fed Pivot chatter (that is now dead), there really was no sign of insider enthusiasm in aggregate whatsoever, and while investors are increasingly focused on ever-shrinking timeframes (0DTE options traders running the show), just like 2016 and 2020, insiders are sending a very clear message that this time is different.
Oddly, with the sellers dominating the buyers, C-suites are far from pessimistic. On a scale from 1 to 10, a gauge of CEO confidence in prospects for business over the coming year rose to 6.3 in February, the third monthly advance and the highest level since March 2022.
What's more, announced buybacks stood at more than $163 billion in February, a decrease from the same time a year ago but still the third-highest reading for February ever, according to data compiled by Birinyi Associates.
Maybe, as always, it's better to watch what execs 'do' rather than what they 'say'.
Tyler Durden
Wed, 03/01/2023 - 14:05