Fed's Original Mouthpiece Shatters "Strong Labor Market" Propaganda, Casts Doubt On Job Openings
Exactly one month ago, we extended our analysis of data fabrication (whether intentional or accidental) at Biden's Department of Labor and Bureau of Labor Services, by looking at layoffs and job openings data, finding that the former was far higher than officially reported when compared to accurate, state level WARN notices...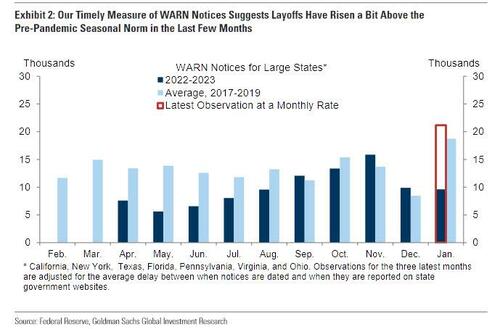 ... while also finding that the officially reported number of Job Openings per JOLTS was also incorrect and was exaggerated...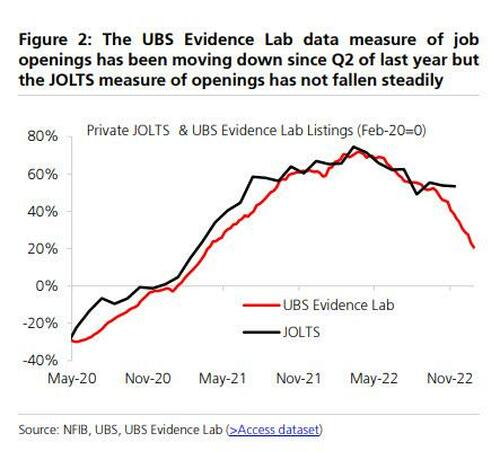 ... when compared to numbers calculated by UBS using third-party data from Indeed and Opportunity Insights, with the latter now showing that job openings were in fact below pre-pandemic levels, a huge gap compared to the near-record openings number reported by JOLTS.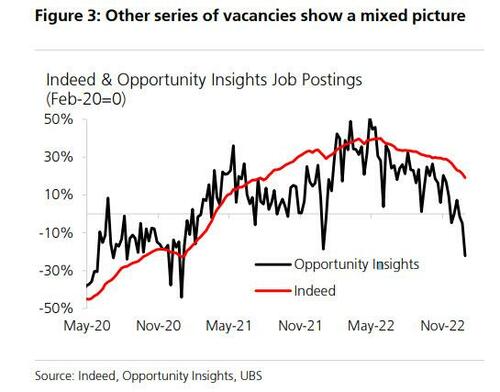 We bring this up because today none other than the WSJ's original Fed whisperer, Jon Hilsenrath - at least before he was unceremoniously replaced by the younger and more easily controlled Nick Timiraos - writes in the most widely-read financial newspaper what Zero Hedge readers knew more than a month ago, namely that "demand for U.S. workers shows signs of slowing, a long-anticipated development that is showing up in private-sector job postings even while official government reports indicate the labor market keeps running hot."
Citing ZipRecruiter and Recruit Holdings (parent company of Indeed), two large online recruiting companies, Hilsenrath notes that "their data show the number of job postings is declining more than Labor Department reports of job openings. Investors recently hammered shares of those companies after disappointing earnings reports." As an aside, the latest Labor Department data showed 11 million job openings and 5.7 million unemployed people in December, a large mismatch and a source of upward wage pressure as there are 1.92 job openings for every unemployed worker.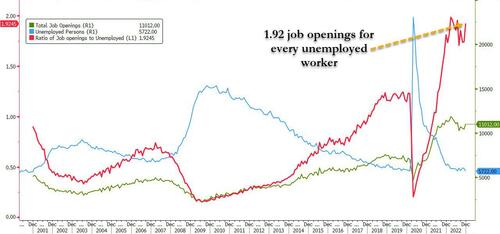 Of course, it's not just job openings where the Labor Department is dead wrong: in fact, virtually every labor market metric, from unemployment to payrolls, has been skewed to represent a stronger economy. Whether this is due to flawed seasonal adjustment metrics, or recurring taps on the shoulder from the Biden admin which is unwilling to admit the true state of the labor market, it has gotten so bad that last week even "JPMorgan lashed out at ridiculous seasonal adjustments In key US data", with the simple implication: the real jobs data is far weaker than what the Biden admin is representing.
Of course, this matters because as Hilsenrath notes, upwardly manipulated government data on job openings and hiring "are among the reasons Federal Reserve officials believe the U.S. economy is overheated, fueling high inflation. Fed officials are raising interest rates in an attempt to slow growth and reduce price pressures. If government reports move in line with the recruitment business, Fed officials could feel less pressure to move aggressively."
In other words, the BLS is faced with a dilemma: admit how bad the US labor market is and stop the stock market bleeding, or keep pushing the lie of economic growth and add a market crash to Biden's list of all too real woes.
The Labor Department next week will report job-opening figures for January and payrolls for February. It tallied the number of available jobs in December at 11 million, 57% above levels in February 2020, right before Covid-19 hit the economy. The number ticked up in December after drifting lower in earlier months.
Hilariously, the BLS reported last month that hiring surged in January as restaurants, hospitals, nursing homes and child-care centers staffed up, more than offsetting cuts announced by employers such as Amazon.com Inc. and Microsoft Corp. In fact, according to layoffs.fyi, Q1 is on pace for record tech layoffs.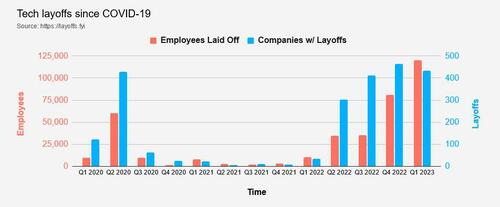 Furthermore, as even the Fed's original WSJ mouthpiece admits, "the data from Recruit Holdings, the parent company of U.S. job-listing site Indeed, and ZipRecruiter, tell a somewhat different story. ZipRecruiter said its job postings in December were 26% above pre-Covid levels and fell further in January."
Indeed also showed a greater drop than the government figures, though not as stark as ZipRecruiter found. Indeed's data show that companies are cutting back in particular on sponsored job postings, the kind they pay for, meaning they have been less willing to invest heavily to fill open positions.

Other private data also point to a decline in available jobs. The National Federation of Independent Business, which represents small businesses, and LinkUp, a research firm that tracks job listings that companies place on their own websites, also show a sharper drop in postings than recent government reports on openings.
"Clearly, we're in a macroeconomic slowdown, and online recruiting has effectively cooled across the country," Ian Siegel, chief executive of ZipRecruiter, said in a conference call last week.
Well, Ian, it's not clear if you rely only on government data... which is wrong not only when it comes to jobs data, but increasingly all data has become total horseshit. Just look at the latest crude oil adjustment factor in the weekly DOE crude oil report: it just hit an all time high, with the sole intention of keep oil prices lower by signaling the oil inventories are building even though in reality they are rapidly draining!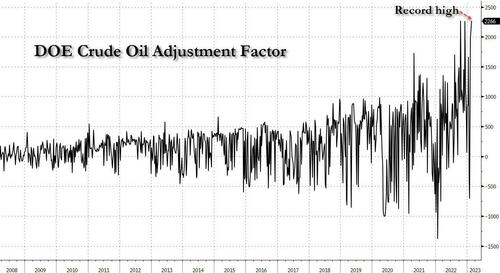 It gets worse: if one believes the companies who job it is to represent the truth, not Biden's political propaganda, the labor market picture is downright dismal: Siegel, CEO of ZipRecruiter whose weak quarterly revenue numbers sent its share price down more than 20% in a day, said that "We are seeing a surge in job seekers," Siegel said. "When there are less jobs, it's going to take these job seekers longer to find work and that is, in fact, what we are seeing."
The firm told investors it is preparing for a softer hiring environment for the rest of the year.
And with the BLS', well, BS so exposed it's only a matter of time before the jobs show a collapse one of these months; come to think of it, maybe next week. After all, as Deutsche Bank showed overnight, we are overdue for a brutal, negative print in monthly payrolls.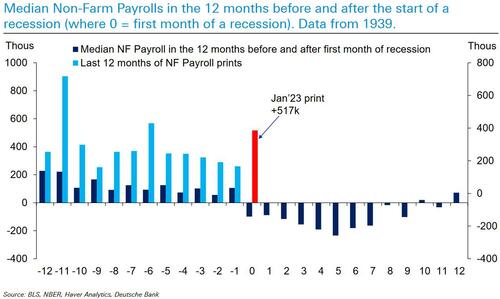 What's ironic is that the Fed has been trying to slow the labor market, even though the labor market has slowed substantially, and only the DOL's "filtering" of information for political reasons is preventing the economy from being appreciated for how ugly it truly is. Meanwhile, the Fed has been raising short-term interest rates to cool household and business spending, which Fed officials hope will reduce labor demand and inflation. The Fed hopes to slow the economy and inflation just enough, without also spurring outright firing of workers and sharply higher unemployment.
"We are seeing a decline in employers' willingness to spend to hire in many industries despite the labor shortage as they become increasingly cautious due to a potential recession in the U.S.," Hisayuki Idekoba, chief executive of Recruit Holdings, said in a February call. And yet, if one believes the BLS, in January employers hired a whopping 517K workers!
To be sure, it is certainly possible that the DOL's error is not premeditated (and we are confident that's the excuse they will go with in a month or two). As Hilsenrath notes, "tracking available jobs is complicated. The Labor Department's monthly Job Openings and Labor Turnover survey asks employers about unfilled positions that they are actively recruiting to fill. This survey isn't as thorough as other federal surveys. It is based on reporting from 20,700 firms. By contrast, the Labor Department's monthly payroll survey is based on reporting from 122,000 businesses and government agencies, representing approximately 666,000 individual worksites."
However, as we also first noted over a month ago, "the reliability of the Labor Department's job-openings estimates has declined in recent years because fewer businesses have been responding to survey questions, said Paul Calhoun Jr., an economist at the Labor Department. The response rate for the survey fell to 30.6% last September from 56.4% in February 2020. The department increased its sample size in 2019 because of the declining response rates."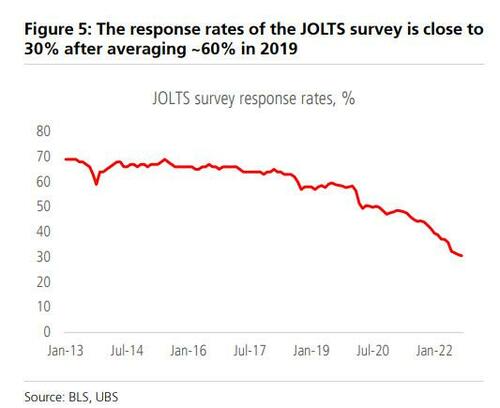 The bottom line: "We haven't seen [the slowdown] in the employment data yet, but we will see it soon," said Julia Pollak, chief economist at ZipRecruiter. "We also speak to customers all of the time. We discuss with them their plans for future hiring. They are telling us they are worried about the risk of overhiring."
And while the market's estimate of the terminal rate just hit 5.50% following a repricing in the past month that was sparked by the 517K Jan payrolls number...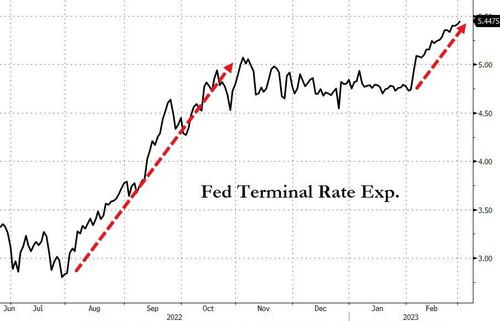 ... expect this to air pocket as soon as next Friday when the BLS just may have to finally admit the truth about the state of the US labor market, and print the first negative print since December 2020.
Tyler Durden
Wed, 03/01/2023 - 13:25