Lukashenko Backs Xi's Peace Plan In State Visit, Urges Unifying Russia-China-Belarus Industrial Policies
Washington's pressure campaign to dissuade China from deepening its ties with Moscow continues to come to naught, and America's lack of influence over the situation was on full display Wednesday as Belarusian president and close Putin ally Alexander Lukashenko traveled to Beijing in a state visit.
Chinese leader Xi Jinping greeted Lukashenko in Beijing's Great Hall of the People, after which they discussed deepening their countries' "all-weather comprehensive strategic partnership". During the visit the Belarusian leader received the honors of a ceremonial 21-gun salute, performed by China's People's Liberation Army in Tiananmen Square.
"The China-Belarus friendship is unbreakably strong," Xi told Lukashenko, according to Xinhua. He's the first European leader to visit China on a state visit since Xi secured his third term last year, CNN has noted. "China and Belarus are the joint guarantors of international justice," Xi declared.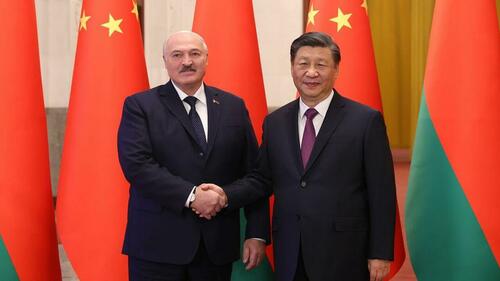 In the meeting Lukashenko reportedly praised China's 12-point peace plan for solving the Ukraine crisis, saying he "fully supports" the initiative.
Xi during the visit described the 'position paper' as follows: "China's paper on the political solution to the Ukrainian crisis has been released." He said further according to a state media readout, "The core of China's position is to promote peace and talks. We must stick to the direction of political settlement, abandon all Cold War mentality, respect the legitimate security concerns of all countries, and build a balanced, effective, and sustainable European security architecture."
Xi also lashed out at the West, albeit without naming names, as Politico notes: 
He also blamed "certain countries" — a veiled reference to the West — for "politicizing and instrumentalizing the world economy" during the "Ukraine crisis," calling on them to "genuinely commit to [steps] conducive to a cease-fire and peaceful resolution."
Additionally, "Xi made no reference to Zelenskyy's call for a meeting." Zelensky had floated the idea of an in-person meeting with the Chinese leader while saying that he's glad that Beijing is finally talking about the Ukraine war and ways to achieve peace. 
Another key outcome of Wednesday's meeting along with the signing of economic and industrial cooperation agreements, was Lukashenko's proposal of a unified Russia-China-Belarus industrial policy. 
He called on the Chinese side to enact close cooperation in mechanical engineering and the implementation of joint enterprises, specifically "founding joint ventures in the field of machine tool construction, electric transport, and production of parts for agricultural machinery in both Belarus and China."
President Xi Jinping held a welcoming ceremony for Belarusian President Alexander Lukashenko in Beijing on Wednesday afternoon. pic.twitter.com/h6MnJAVFQL

— Caoli 曹利 (@Cao_Li_CHN) March 1, 2023
Crucially, some of these areas may include dual purpose tech development, usable in the defense industry. This is sure to grab the Pentagon's and Biden administration's attention, especially after the past week saw Secretary of State Antony Blinken issue repeat warnings against China getting in bed with Russia militarily. But now it seems Lukashenko is precisely calling for greater coordination in this area, albeit perhaps under the radar, given the appeal for unifying industries. The Kremlin is meanwhile said to be preparing to host a near future Xi visit to Russia - which will be a huge shot across the bow to Washington, given the symbolism of it happening as the war in Ukraine rages.
* * *
In a note this week, Rabobank highlights the important Xi-Lukashenko meeting and how it fits among some alarming global trends...
First, the new US House committee on the Chinese Communist Party's threat to America is underway: as I type, witnesses are pushing for a massive increase in US military spending; an urgent investment in Taiwan's defences; preventing US supply-chain vulnerabilities stemming from China; breaking China's Great Firewall; and blocking Chinese investment in US agri. Second, the word on the street is that if the White House executive order to impose capital controls on US firms investing in China is more limited than first floated, Congress will impose its own tougher version. Third, the Wall Street Journal reports the US may revoke export licenses for Huawei. Fourth, any US chipmaker given part of the $39bn Federal funding for onshoring is to be banned from expansion in China for a decade.
But it gets worse. Ignored by the mainstream media and most of social media despite officially running in 2024, and some polls showing he could win, former President Trump just launched his trade plan that "takes a SLEDGEHAMMER to Globalism" via "Universal Tariffs" - "Total Independence From China" - "Patriotic Protectionism" - "Reviving Mercantilism for the 21st Century". In short, his proposed "America First" policy would phase in a system of universal, baseline tariffs on most foreign products, the revenue from which would reduce taxation on firms producing in the US. Moreover, tariffs "would increase incrementally depending on how much individual foreign countries devalue their currency."
Honestly, I am not shocked. I am sure no other markets Daily uses the word "mercantilism" as freely as this one has for around a decade - I had to explain the word in 2015, and then how pre-WW2 US presidents were mercantilists; when Trump floated his first tariffs, I argued phasing them in to allow onshoring FDI before imported goods got more expensive would be logical; 'Weaker currency = higher tariffs' was factored into our report on 'Balance of payments -and power- crises'; and clearly there is still US momentum to change things even if means breaking things, which we factored into our 'The World in 2030' report  – which we may arrive at early; moreover, as argued last year, and this, 'Bretton Woods 3 Won't Work'.
As Twitter discussions over this topic continue in less Trumpian size-100 font-all-caps-bold-underlined form, I think @matthew_pines summarizes things, and the arguments in this Daily since 2014, when he notes:
"A key function of the economic system post China-in-WTO has been to allow western capital to (1) arbitrage labor costs & (2) grow FIRE sector to direct resulting USD mercantilist surpluses into scarce, desirable assets (NYC real estate, Ivy degrees, UST/Agencies, farm land).
(1) has just about reached its limit, and (2) will face headwinds (if not outright reversal) for national security and domestic political reasons. What new system will result? TBD, but these shifts typically don't happen smoothly (or peacefully)…"
That's as this weekend's National People's Congress in Beijing is set to see an overhaul of China's government agencies, including the PBOC, key industries and sectors, bringing them all directly under the CCP in a "relatively intensified" manner, in Xi's words. What this means is the CCP, not state institutions, will be running things openly from hereon out. These changes will affect the interests of many, he added. And not only in China.
Meanwhile, things are already the opposite of smooth and peaceful in Russia-Ukraine. Look at headlines like: 'Lukashenko Proposes Unifying Russia, China, and Belarus' Industrial Policies'; or 'Russia's Medvedev floats idea of pushing back Poland's borders'; or 'Putin orders tighter security at Russia-Ukraine border after spate of drone attacks'.
Tyler Durden
Wed, 03/01/2023 - 14:44