Stocks & Bonds Dive After Hotter-Than-Expected German CPI
Coming on the heels of yesterday's hotter than expected inflation prints in France and Spain, this morning's German CPI printed hotter than expected (+9.3% YoY vs +9.0% exp vs +9.2% prior) as the continued slowing of inflation narrative busts.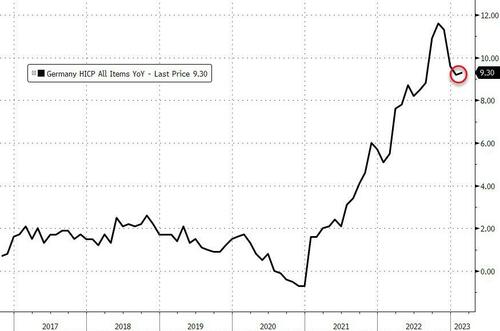 The hot German CPI prompted Goldman to upgrade their Euro area headline inflation forecast to 8.46%yoy, from 8.36%yoy previously, and mark up their core inflation tracking estimate by 10bp to 5.38%yoy. This raises their estimate for seasonally adjusted Euro area core inflation to 0.47%mom, 9bp above January's 0.38%mom.
The reading for Europe's biggest economy puts more pressure on the ECB to hike higher for longer, prompting markets for the first time to price a 4% peak in the ECB's deposit rate which currently stands at 2.5%.(as we detailed yesterday)...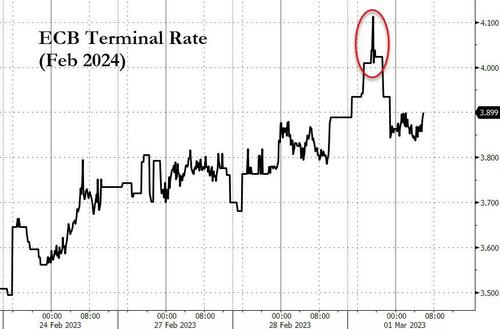 As Bloomberg economist, Martin Ademmer, noted,"For the ECB, a sequence of upside surprises to readings for the euro area's biggest economies is awkward. That the bulk of the misses are accounted for by food and energy is cold comfort."
Addressing reporters in Frankfurt earlier Wednesday, Bundesbank President Joachim Nagel warned that core price pressures remain very elevated and that the inflation rate is only likely to retreat gradually — averaging between 6% and 7% in Germany this year.
"One thing is clear: the interest-rate step announced for March will not be the last," he said in a speech. "Further significant interest-rate steps might even be necessary afterwards, too."
...and that is knocking into US yields...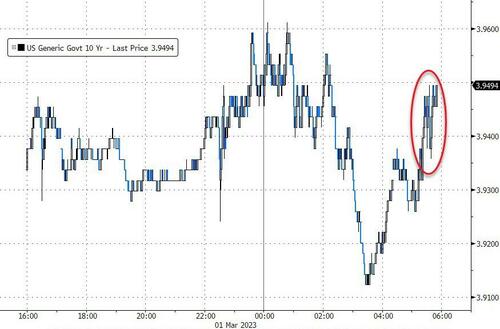 And dragging US stocks into the red...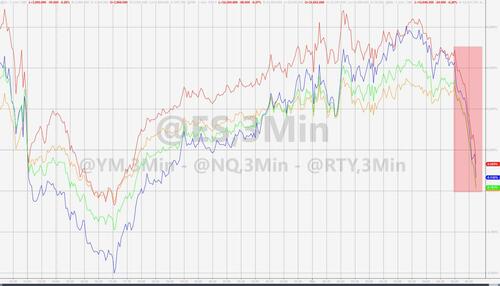 It appears the inflation monster is more sticky than the ivory tower believed.
Tyler Durden
Wed, 03/01/2023 - 08:56