These Are The Most Popular Video Streaming Services In Every Country
In recent years, video streaming has become an integral part of global entertainment. From Netflix and Amazon Prime to HBO Max and Apple TV, consumers today have many choices when it comes to streaming services.
While some prefer services with their favorite shows and movies, others opt for the most affordable or content-packed options. Often, users band together friends and family and subscribe to multiple streaming services, though some services like Netflix have started to clamp down on the practice.
As Visual Capitalist's Freny Fernandes reports, this graphic by theWORLDMAPS uses data from FlixPatrol to highlight the streaming services with the most subscriptions by country in February 2023.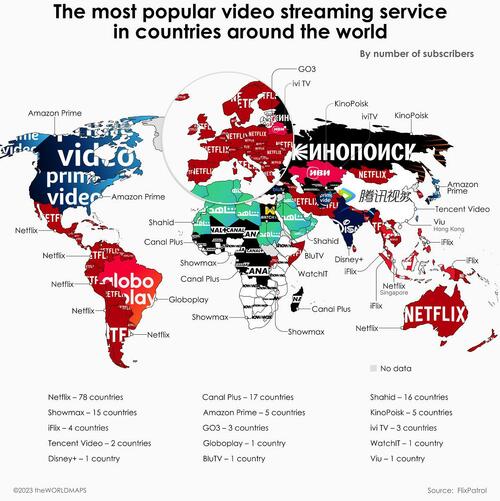 Most Subscribed Streaming Services in 2023
With the highest number of subscribers in 78 countries and over 220 million customers globally, Netflix was the most popular video streaming service in the most countries.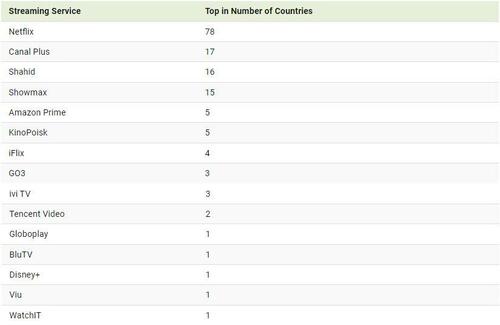 In many countries including the UK, Brazil, Germany, France, and Mexico, Netflix had the most subscribers of any service. That's more than delivery subscription and streaming service Amazon Prime and its 200 million global subscribers.
Because of its large userbase, however, Prime can claim more subscribers than Netflix in five countries: Afghanistan, Canada, Japan, Taiwan, and the U.S..
Other streaming services found success catering to specific regions. The French premium television channel Canal Plus had the highest subscriber count in 17 francophone countries across Central and West Africa. Likewise, the Arabic free video streaming service Shahid topped the list of 16 countries including Egypt, Saudi Arabia, UAE, and Yemen.
And despite having over 160 million global subscribers, Disney+ only made it to the top of India's subscriber base. Likewise, Tencent Video was the most-subscribed platform in China with 124 million customers.
Honorable Mentions and Turning Tides
Only 11 video streaming channels made it to the top of the 134 countries tracked by this data.
And while many others did not make the cut, they continue to attract millions of subscribers worldwide.
They include the Chinese platform iQIYI with 106 million subscribers, as well as four American streaming services: HBO Max (79.9M), Hulu (48M), Paramount+ (46M), and Apple TV (40M).
But with both Netflix and Disney+ wrestling with slowing (and declining) subscriber growth, how will the map evolve over the next few years?
Tyler Durden
Wed, 03/01/2023 - 02:45