US Manufacturing Surveys Signal Stagflation Resurgence In February
Despite the market's 'tightening' of policy, February saw US Macro data surprising dramatically and serially to the upside and while many of the regional Fed surveys have signaled economic slowdowns, the national Manufacturing survey data from ISM and PMI today were expected to rise (but both to remain in contraction sub-50).
S&P Global's US Manufacturing PMI February final printed 47.4, below the flash 47.7, but above January's 46.9
ISM's US Manufacturing February printed , versus expectations of 48.0, from January's 47.4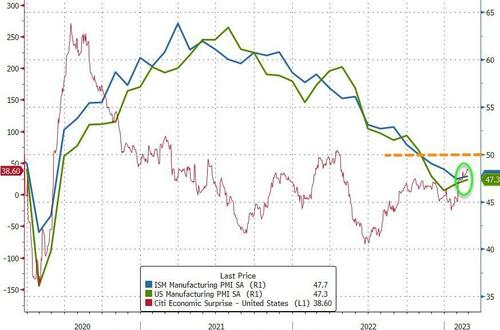 Source: Bloomberg
That is the 4th straight month of US Manufacturing contraction (sub-50 prints) with S&P Global seeing slowing orders, weaker production, and prices re-accelerating. ISM data also showed a huge jump in Prices Paid, back above 50, while new orders rose but remain below 50 for the 6th straight month...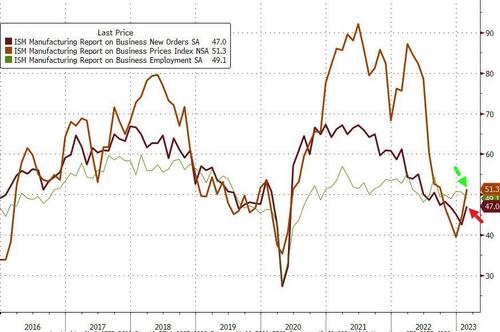 Source: Bloomberg
All of the ISM Manufacturing's drivers were negative MoM...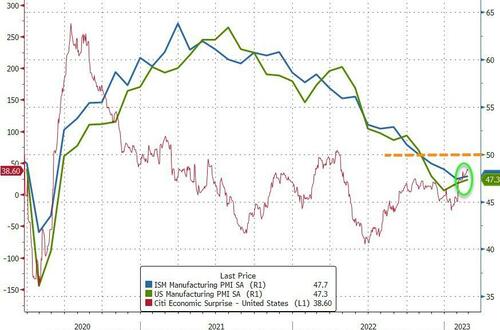 Which is reflected in the respondents' comments:
"Expect the first half of 2023 in the U.S. to be slower than the second half. Expect slower orders throughout 2023 for Europe."

"A slowdown in new housing construction and concerns of a slowing economy have customers delaying purchases in an effort to destock."

"Business and new orders are softening, and customers are pushing out current orders."
Chris Williamson, Chief Business Economist at S&P Global Market Intelligence, said:
"US manufacturing remained under intense pressure in February. Although the PMI rose slightly, it continues to signal the steepest downturn outside of pandemic lockdown months since 2009.

"Moreover, some of the improvement in output could merely be attributed to faster supplier delivery times, which quickened to the greatest extent since 2009 to facilitate higher production and enable factories to work through previously placed orders. The worry is that new order inflows continue to fall sharply as many companies report disappointing sales, linked in part to a sustained trend towards cost-saving inventory reduction and low levels of confidence at their customers, both at home and abroad. None of this points to a healthy economic situation.

"There was some brighter news in that factory jobs growth picked up slightly amid reports of greater success in filling vacancies, and the improvement in supply chains helped reduce input cost inflation. However, rising wage pressures and efforts to raise margins meant average prices for goods leaving the factory gate rose sharply once again, the rate of inflation accelerating for a second straight month to hint at stubbornly high price pressures."
So, slower growth and re-accelerating inflation - that's not what The Fed ordered!
Tyler Durden
Wed, 03/01/2023 - 10:03