Watch: Sen. Hawley Exposes Biden Archivist Nominee With Her Own Past Partisan Tweets
Authored by Steve Watson via Summit News,
In a hearing Tuesday, Senator Josh Hawley completely eviscerated Joe Biden's National Archivist nominee by presenting her with her own past tweets which are extremely partisan.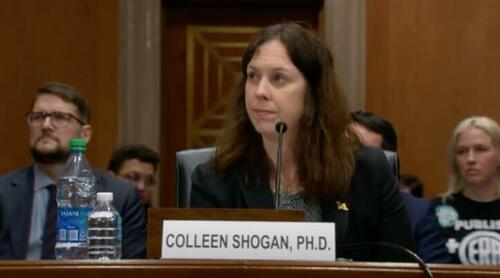 During the Senate Homeland Security Committee hearing, Hawley exposed how Dr. Colleen Shogan routinely criticised Republican representatives and their policies, despite the fact that she had locked her Twitter account as soon as she was nominated for the supposedly non-partisan role heading up the National Archives and Records Administration.
As Hawley presented each of her past statements, Shogan refused to comment, prompting the Senator to accuse her of stonewalling.
Hawley noted that in February of 2022 Shogan tweeted complaining about mask mandates being lifted.
"I asked you to provide the public posts that had previously been available on Twitter because the ones that we have were pretty disturbing," Hawley noted, adding "You responded as follows, and I quote, 'My personal Twitter account is comprised of posts about my mystery novels, events at the White House Historical Association, Pittsburgh sports teams, travels and my dog.' Is this an accurate statement?"
"My social media is in my personal capacity," Shogan responded.
Hawley shot back, "Answer my question, please, because you've testified under oath that you only posted about your dog, and sports teams and novels, and you also said you wouldn't give this committee any of your public posts."
Shogan still refused to answer, prompting Hawley to remind her "You are under oath before this committee, and I have to say, you have placed this issue squarely in record by repeatedly refusing to answer."
The deluge continued for over 7 straight minutes, as Hawley presented anti-Trump tweets, anti-second amendment tweets and anti-religion tweets, proving once again that the Biden administration is only interested in filling the government with people who will follow its agenda in lockstep.
Hawley noted "I have never seen a witness stonewall like this before. Never. And I've seen a lot. This is extraordinary. … I mean, this is unbelievable, and you want to be the archivist of the United States. You lied to us under oath, you lied to us in your [Questions for the Record], you just lied to me a second ago under oath, and now you're sitting here stonewalling, not answering questions about public posts that you've made."
The Senator continued, "I have never seen a witness blatantly lie under oath like Dr. Shogan has just done to this committee, stonewalled this committee, and just repeatedly refused to answer my questions about her own posts that are in public."
"For these reasons, I will oppose your nomination and I strongly, strongly urge this committee to take action on this and force this witness to own up to the fact that she is misleading us right now before our eyes," Hawley asserted.
Watch:
Despite all of this, Shogan will likely be confirmed, given the Democratic majority in the Senate. 
Elsewhere during the hearing, Senator Rand Paul noted that last month the National Archives had forced visiting students, in Washington for the March for Life, to remove clothing with pro-life messages on it.
"It's hard to imagine a more offensive way to violate their freedom of speech," Paul noted, adding "Nothing like this can ever happen again. We must understand who ordered it."
Paul also further told the nominee, "The difference in how Archives appear to have handled disputes over documents held by former President Trump and Vice President Pence, and President Biden on the other hand, raised questions about the impartiality of the agency."
"Specifically, the agency seems to have aggressively publicized the search for documents at President Trump and Vice President Pence's residences, but tried to keep quiet about the documents President Biden kept at, at least three locations," Paul added.
*  *  *
Brand new merch now available! Get it at https://www.pjwshop.com/
In the age of mass Silicon Valley censorship It is crucial that we stay in touch. We need you to sign up for our free newsletter here. Support our sponsor – Turbo Force – a supercharged boost of clean energy without the comedown. Also, we urgently need your financial support here.
Tyler Durden
Wed, 03/01/2023 - 17:40