WTI Rebounds After Smaller-Than-Expected Crude Build, Cushing Stocks Highest Since June 2021
Oil prices are considerably lower again this morning after a major rollercoaster ride higher last night and back down again this morning. This price action follows another big crude build reported by API, and hawkish policy fears sparked by German inflation and US PMIs (prices jumped) all offsetting buying pressure after China reported big jumps in its manufacturing data.
"Oil prices have fallen for the month due to an extremely warm winter in the U.S. and Europe," Jay Hatfield, chief executive officer at Infrastructure Capital Management, told MarketWatch.

"In addition, recent mixed data on inflation and associated hawkish [Federal Reserve] commentary have been a headwind for oil as the dollar strengthened and stock prices came off of highs."
Overhanging the market is uncertainty around the global economic outlook as the Federal Reserve and other major central banks continue to push interest rates higher in a bid to rein in inflation, and the signs from week-after-week of inventory increases remains an ominous one.
API
Crude +6.203mm (+350k exp)

Cushing +483k

Gasoline -1.774mm (-300k exp)

Distillates -341k (-700k exp)
DOE
Crude +1.166mm  (+350k exp)

Cushing +307k

Gasoline -874k (-300k exp)

Distillates +179k (-700k exp)
Crude stocks rose for the 10th straight week and inventories at the Cushing Hub rose for the 9th straight week. Gasoline inventories drewdown for the 2nd week in a row...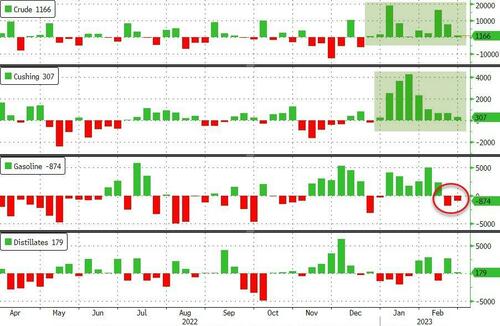 Source: Bloomberg
US Crude inventories are at their highest since May 2021...
Source: Bloomberg
Stocks at the Cushing Hub surged to their highest since June 2021...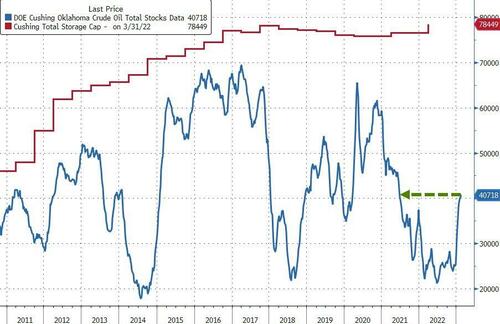 Source: Bloomberg
Before we move on, it's worth reflecting once again on the so-called "adjustment factor" that is used to fudge the numbers in the crude inventory process... it just hit a new high...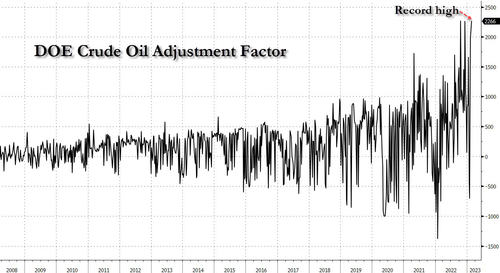 Source: Bloomberg
US Crude production was flat at cycle highs despite the drop in rig counts...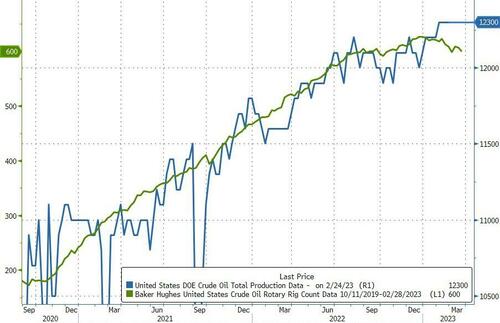 Source: Bloomberg
WTI was hovering around $76.75 ahead of the official data and bounced on the smaller crude build (smaller than API reported and BBG's whisper number of +3mm)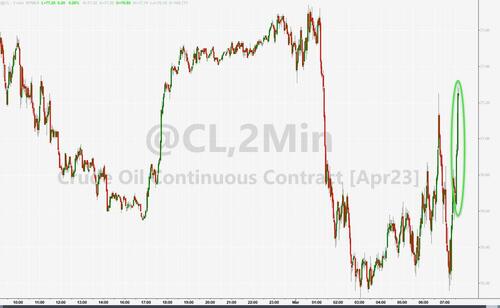 WTI has traded in a broad range between $72 and $83 for the last 3 months.
The US has added around 62mm barrels to its total inventories in the last 10 weeks - that's on par with the collapse in 2020 and 2015's chaos...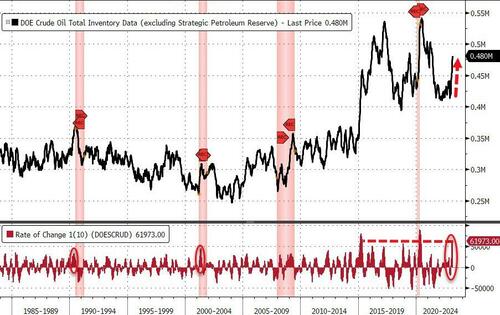 If Dr.Oil is right, the world is in recession already.
Tyler Durden
Wed, 03/01/2023 - 10:38