Zelensky Floats 'Strategic Pullback' From Bakhmut After Pouring In Huge Amount Of Reserve Forces
Zelensky officials are now openly talking about a possible 'strategic pullback' from the besieged eastern city of Bakhmut. This comes after Zelensky himself said he's not ready to order a continued defense of the city at all costs. By all accounts both sides are suffering huge casualties, but Russia has the superior artillery fire, which has been sustained around the clock, also as Kremlin forces have the city almost completely surrounded. According to The Hill:
A Ukrainian presidential adviser on Tuesday said troops may "strategically pull back" from the town of Bakhmut, the focus of intense and brutal fighting for the past few months.

Alexander Rodnyansky told CNN the Ukrainian army has not yet pulled out of the city, but Kyiv may soon decide the cost of holding Bakhmut "outweighs the benefits."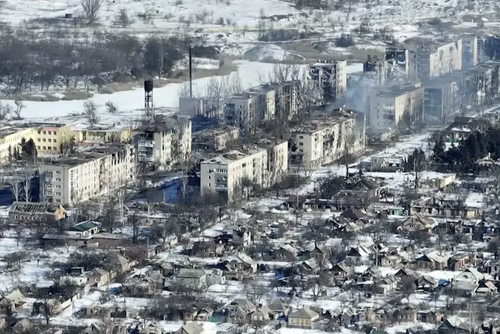 "Our military is obviously going to weigh all of the options," the Zelensky aide told CNN. "So far they've held the city, but if need be, they will strategically pull back because we're not going to sacrifice all of our people just for nothing."
President Zelensky has also admitted defense of the town has proven "most difficult" for his forces. However, in rare comments, Wagner Group founder Yevgeny Prigozhin said Ukrainian forces continue putting up a fierce resistance on Wednesday. So far they've been throwing an immense amount of manpower into Bakhmut, he said. 
"The Ukrainian army is throwing extra reserves into Artyomovsk and trying to hold the town with all their strength," Prigozhin said, using the Russian name for Bakhmut, in an audio message published by Wagner's press service. "Tens of thousands of Ukrainian army fighters are putting up furious resistance. The bloodiness of the battles is growing by the day."
Indeed recent footage from inside the city shows a war-torn wasteland of rubble...
Views of Bakhmut, Donetsk Oblast

📹https://t.co/ciSbTrHYCk pic.twitter.com/sxTJYgkdnw

— Euromaidan Press (@EuromaidanPress) March 1, 2023
As we reported previously, a retired American Marine fighting in Ukraine told ABC News this week that the frontlines are a "meat grinder" where soldiers survive an average of "four hours."
In a Tuesday address Zelensky said something similar of the Russian side: "Russia does not count people at all, sending them to constantly storm our positions," and acknowledged, "The intensity of fighting is only increasing."
A variety of updated battle maps circulating among war monitors have consistently shown the Russians have the Ukrainians nearly surrounded...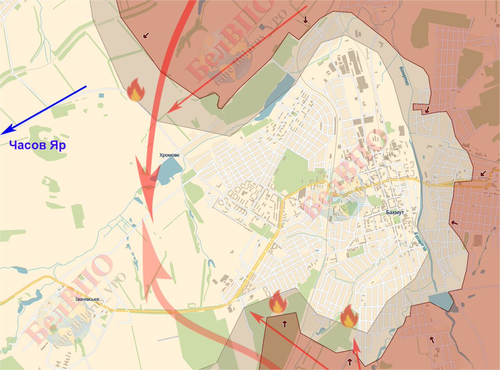 Tyler Durden
Thu, 03/02/2023 - 05:44