Apple Demands ChatGPT-Based Email App Moderate Content Or Raise Age Restriction
AI-related stocks have dipped in the pre-market after a report by The Wall Street Journal, with a scary-sounding headline, prompted more concerns about the future of AI use.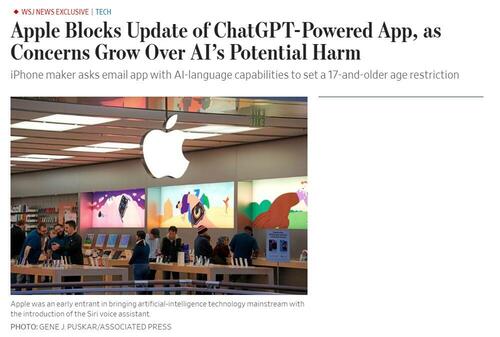 MSFT (which invested in OpenAI) and NVDA (which makes the chips that AI needs) are among the day's early losers on this headline but the story is not quite as terrifying for the future of ChatGPT as one might imagine.
The App in question is called BlueMail which has a new AI feature uses OpenAI's latest ChatGPT chatbot to help automate the writing of emails using the contents of prior emails and calendar events.
WSJ reports that Apple has delayed the approval of an email-app update with AI-powered language tools over concerns that it could generate inappropriate content for children, according to communications Apple sent to the app maker.
"Your app includes AI-generated content but does not appear to include content filtering at this time," Apple's app-review team said last week in a message to the developer reviewed by the Journal.
The app's restriction is currently set for users 4 years old and older. Apple's age restriction for 17 and older is for categories of apps that may include everything from offensive language to sexual content and references to drugs.
Ben Volach, co-founder of BlueMail developer Blix Inc., said many other apps that advertise a ChatGPT-like feature listed on Apple's App Store don't have age restrictions.
"We want fairness," said Mr. Volach.

"If we're required to be 17-plus, then others should also have to."
The rejection is notable though as Apple's attempt to set an age restriction to help moderate content from a language-model-based AI is an indication the tech giant is closely watching the new technology and the risks it poses.
Tyler Durden
Thu, 03/02/2023 - 08:23