UK PM Backs Official COVID-19 Inquiry After 100,000 WhatsApp Messages Released To Newspaper
Authored by Owen Evans and Alexander Zhang via The Epoch Times,
Prime Minister Rishi Sunak has defended an official COVID-19 inquiry as the "right way" to scrutinise the handling of the pandemic after former Health Secretary Matt Hancock's WhatsApp messages were published in a British newspaper.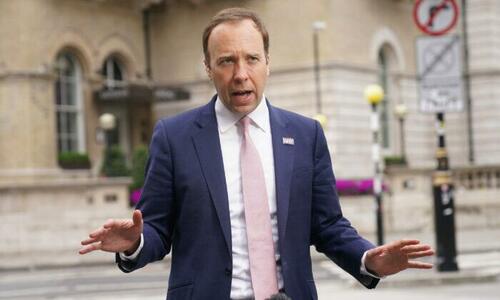 British Health Secretary Matt Hancock in May 2021. (Yui Mok/PA)
Based on a trove of more than 100,000 WhatsApp messages, The Daily Telegraph newspaper claimed on March 1 that England's Chief Medical Officer Sir Chris Whitty advised Hancock in April 2020 that everyone going into care homes should be tested for COVID-19.
The relevant exchanges, from April 14, 2020, suggested that Hancock rejected the guidance, telling an aide the move just "muddies the waters" and introduced mandatory testing only for those coming from hospitals rather than the community.
Following the report, Hancock, who resigned in June 2021, disputed the claims made by the Telegraph, calling them "flat wrong," and claiming the messages had been "spun to fit an anti-lockdown agenda."
The Epoch Times hasn't seen the texts and hasn't been able to independently verify the claims.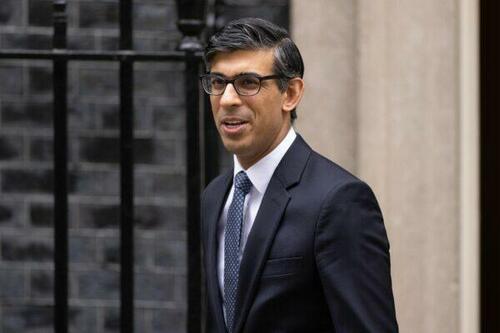 British Prime Minister Rishi Sunak departs Downing Street ahead of the weekly Prime Ministers Questions in the House of Commons, in London, on March 1, 2023. (Dan Kitwood/Getty Images)
'Colossal Whitewash'
Hancock had willingly given his WhatsApp messages to journalist Isabel Oakeshott to co-write a book called "Pandemic Diaries."
In a piece in The Telegraph, titled "I had to release Matt Hancock's COVID WhatsApp messages to avoid a whitewash," Oakeshott wrote that following his resignation in June 2021, he downloaded the records from his phone and shared them with various people, including her.
"Suffice to say there was plenty of important material left over," she said, calling the texts "a vital historical record at a time when we need urgent answers."
Oakeshott, who has described COVID-19 lockdowns as an "unmitigated disaster," said she was releasing the messages because it would take "many years" before the end of the official inquiry into the pandemic response, which she claimed could be a "colossal whitewash."
"That's why I've decided to release this sensational cache of private communications—because we absolutely cannot wait any longer for answers," she said.
Official Inquiry
At Prime Minister's Questions on March 1, Labour leader Sir Keir Starmer called on Sunak to ensure the official inquiry had all the support it needed "to report by the end of this year."
Mentioning the Telegraph report, he said, "Now we don't know the truth of what happened yet—there are too many messages and too many unknowns."
"Families across the country will look at this, and the sight of politicians writing books portraying them as heroes or selectively leaking messages will be an insulting and ghoulish spectacle for them."
Starmer said that the UK COVID-19 Inquiry—which has been set up to examine the UK's response to and impact of the COVID-19 pandemic—has cost the taxpayer £85 million but "hasn't heard from a single minster yet."
Sunak insisted the official inquiry is the "right way" to investigate the government's handling of the pandemic after Hancock's messages made the headlines.
"There is a proper process to these things, it is an independent inquiry, it has the resources it needs, it has the powers it needs. And what we should do in this House is to let them get on and do their job," he said.
'Anti-Lockdown Agenda'
A spokesman for Hancock strongly disputed the claims made in the Telegraph report.
"These stolen messages have been doctored to create a false story that Matt rejected clinical advice on care home testing. This is flat wrong," the spokesman said.
"On April 14, Matt received a response to his request for advice from the chief medical officer that testing was needed for people going into care homes, which he enthusiastically accepted.
"Later that day he convened an operational meeting on delivering testing for care homes, where he was advised it was not currently possible to test everyone entering care homes, which he also accepted.
"Matt concluded that the testing of people leaving hospital for care homes should be prioritised because of the higher risks of transmission, as it wasn't possible to mandate everyone going into care homes got tested."
The spokesman said that the Telegraph report left out a key part of a WhatsApp message, which demonstrated "there was a meeting at which advice on deliverability was given."
"By omitting this, the messages imply Matt simply overruled clinical advice. That is categorically untrue. He went as far as was possible, as fast as possible, to expand testing and save lives."
The spokesman added that it's outrageous that "this distorted account of the pandemic is being pushed with partial leaks, spun to fit an anti-lockdown agenda."
But the Telegraph's Associate Editor Camilla Tominey denied the paper had doctored the WhatsApp messages, calling the allegation "simply not true."
Talking to the BBC, she also defended Oakeshott after the journalist was accused of breaching a nondisclosure agreement signed when working on Hancock's memoir.
"I support Isabel's decision-making wholeheartedly. In the interest of openness, transparency, and accountability, she felt that she was sitting on a huge amount of information that the public had a right to know."
Tyler Durden
Thu, 03/02/2023 - 02:00