Ukraine Will Eventually Join NATO, Stoltenberg Reaffirms
NATO Secretary-General Jens Stoltenberg gave some less than surprising public comments Tuesday regarding Ukraine's eventual entry into the western military alliance. Brussels has previously approached the controversial subject with some level of ambiguity, given it remains a central issue for Moscow in terms of motive for the Ukraine invasion. 
Stoltenberg in the remarks alongside Finnish Prime Minister Sanna Marine reaffirmed NATO wants to eventually admit Ukraine, hearkening back to promises first made in 2008. "NATO allies have agreed that Ukraine will become a member of our alliance, but at the same time that that is a long-term perspective," the NATO chief said from Helsinki.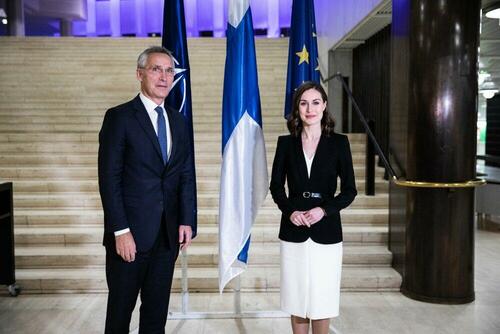 "What is the issue now is to ensure that Ukraine prevails as a sovereign, independent nation, and therefore we need to support Ukraine," Stoltenberg added.
Ukraine's Zelensky has been pressing for a 'fast-tracked' process, despite the reality of being engaged in a hot war with Russia, and having long had a conflict in its eastern regions which goes back to at least 2014. NATO has never admitted a country which had an active conflict on its border, given this would automatically trigger Article 5 immediately after the country entered.
But even Sweden and Finland have been held up in their applications. Stoltenberg in the Tuesday press conference addressed the holdout countries of Turkey and Hungary: "My message has been for a long time ... that time has come to finalize the ratification process. The time is now to ratify in both Budapest and in Ankara," he said.
Finnish Prime Minister Sanna Marin, however, attempted to give Ukraine a boost in saying, "I see that the future of Ukraine is to be part of the European Union and also a member of NATO."
However, as CIA Director William Burns warned in a 2008 cable, Ukraine's entry into NATO remains the "brightest of all red lines":
"Ukrainian entry into NATO is the brightest of all redlines for the Russian elite (not just Putin)," Burns wrote in a cable that was later made public by WikiLeaks. "I have yet to find anyone who views Ukraine in NATO as anything other than a direct challenge to Russian interests."
The process even for Ukraine joining the EU is likely to be years or decades, some have predicted. Meanwhile...
The media before and after 2022 pic.twitter.com/xTKw4Qodwu

— kanekoa.substack.com (@KanekoaTheGreat) February 25, 2023
Officials in Kiev have been saying that Ukraine is already a de facto member given all the arms and training it has received thus far from NATO countries. The Kremlin has tended to agree, hence Putin's rationale of wanting to 'demilitarize' the country as among his key invasion objectives.
Tyler Durden
Thu, 03/02/2023 - 02:45