Tanks, F-16 Jets Won't Be Ready For Ukraine Counteroffensive: Pentagon
Ukraine continues to tout that its planned major counteroffensive is coming and is imminent, event after Russia's significant victory over the strategic Donetsk oblast city of Bakhmut. 
But Joint Chiefs chairman Gen. Mark Milley has been quoted in The Associated Press this week as confirming that US Abrams tanks and F-16 fighter jets which the US and Western countries have previously promised Ukraine will not be ready in time for the counteroffensive. He said the approved training on these sophisticated and advanced weapons systems for Ukrainians has begun, but that it will take "considerable time".
"Everyone recognizes Ukraine needs a modernized Air Force," Milley said. "It's going to take a considerable amount of time."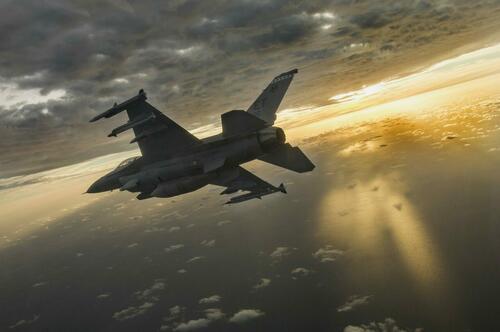 President Biden had last month belatedly approved giving European countries the ability to transfer F-16s to Ukraine, but Ukrainian pilots - long experienced only on Soviet and Russian-made aircraft, must be trained extensively on the US-designed and produced aircraft. This could take six months to a year or more.
According to the AP, "Milley said detailed planning on class sizes, the types of flying tactics and locations for training was underway now between the U.S. and allies such as the Netherlands and the U.K. that have already pledged to provide F-16s."
It's as yet unclear whether the US itself is going to eventually provide the jets directly to Ukraine forces, or if simply it will support third party countries giving them. 
The U.S. has not said yet whether or not it will provide jets, but President Joe Biden has said the U.S. will support F-16 training.
As for Abrams tank training, which has already been underway, "About 200 Ukrainian soldiers began an approximately 12-week training course in Germany on the U.S. tanks over the weekend to teach them how to maneuver, fire and conduct combined arms operations with the advanced armored system," the AP details. Support crew for tank fueling and fuel truck maintenance are also undergoing instruction, and that makes up another 200 troops. 
In total about 300 tanks have been pledged by the Western allies, including German-made Leopard 2 tanks and UK Challenger main battle tanks. Washington is expected to deliver 31 seventy-ton Abrams tanks to Kiev by the fall.
Tyler Durden
Fri, 06/02/2023 - 22:40