McCarthy Fails For 2nd Time To Advance Bill Funding Defense Department As Ukraine Sows Division
Update(12:20ET): With Zelensky in Capitol Hill, and with Ukraine aid hanging in the balance, Kevin McCarthy has failed for a second time to advance a bill funding the Defense Department, which keeps the government on a path toward a shutdown on Oct. 1. This tweet by Mitch McConnell captures the essence of the raging disagreement and debate...
I was proud to welcome President @ZelenskyyUa to the Capitol this morning and hear firsthand about the status of Ukraine's counteroffensive.

American support for Ukraine is not charity. It's in our own direct interests – not least because degrading Russia helps to deter China. pic.twitter.com/u0W32MIRrw

— Leader McConnell (@LeaderMcConnell) September 21, 2023
Politico has reported secret, urgent cross-aisle talks as follows: "Small groups of centrist Democrats are holding secret talks with several of McCarthy's close GOP allies about a last-ditch deal to fund the government, according to more than a half-dozen people familiar with the discussions."
The House voted 212-216 against moving the funding bill to a final vote: Axios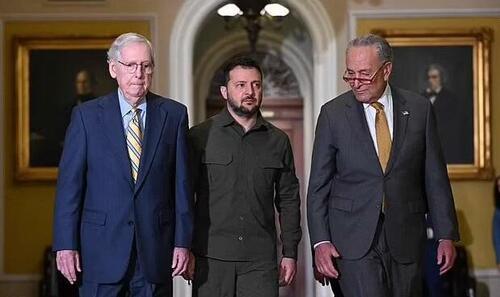 A small group of conservative holdouts are harping on the key controversial issues of Ukraine and the US border:
Generally, the bipartisan group is focusing on two major ideas: a procedural maneuver to force a vote on a compromise spending plan — or somehow crafting a bill so popular that McCarthy can pass it and survive any challenge from the right. That bill would likely be a bipartisan short-term patch with some disaster money, Ukraine aid and small-scale border policies, according to multiple people briefed on the talks who spoke on condition of anonymity.
"Order!"

As House Republican leadership is once again struggling to win a procedural vote to allow a vote on a Pentagon funding bill — typically one of the easiest tasks for a GOP majority — Democratic members are again trolling them, calling for the vote to close. pic.twitter.com/ZPJuf7LeI4

— The Recount (@therecount) September 21, 2023
And more of today's scrambling via Politico:
Two people familiar with those conversations pointed to New York Rep. Mike Lawler, who sits in one of the GOP's toughest battleground seats, as especially vocal in private meetings about threats to sign a discharge petition.

Asked if he sees an increasing chance of centrists from both parties teaming up as the stalemate continues, Lawler said that "I would like to see the House Republican majority govern" by passing a short-term patch that can start further talks with the Senate.

"But until that happens," he added, "we need to keep the government funded and operational. And my only comment to my colleagues is: If we want to govern, we need to do so expeditiously."

The pushback from McCarthy on a possible discharge petition comes after he repeatedly failed to get his own members behind a GOP-only bill that would pair a stopgap funding patch with spending cuts and a Republican border bill. One Republican lawmaker involved in the talks acknowledged that the bipartisan maneuvering could help pressure conservatives to stop resisting any solution.

On the other hand, this lawmaker added, "If you are a nihilist and you want to burn the place down, you don't care."
On the prospect of $24 billion for Ukraine, some vocal Republicans have grown bolder in highlighting Ukraine's problems, urging that America must first fix its own pressing crises at home. McCarthy is also trying to appease the hardliners by appealing to Biden.
MCCARTHY: BIDEN NEEDS TO ADDRESS BORDER BEFORE FUNDING UKRAINE
Sen. @RandPaul on Ukraine: "They've canceled the elections ... They banned the political parties, they've invaded churches, they've arrested priests, so no, it isn't a democracy, it's a corrupt regime." pic.twitter.com/A2PpyYsAi0

— Tom Elliott (@tomselliott) September 21, 2023
And a similar sentiment from Hawley, aimed at the GOP Russia hawks...
"We need to invest in this nation and we need to deter China. And we're not going to do that by investing or spending money in Ukraine."

Sen. Josh @HawleyMO offers a counterpoint to Sen. Lindsey Graham's view. pic.twitter.com/xPEXgnCf4I

— The Epoch Times (@EpochTimes) September 21, 2023
Meanwhile...
Let me translate: Zelensky had a bad meeting for Americans. https://t.co/LcagHsZFPP

— streetwiseprof (@streetwiseprof) September 21, 2023
* * *
Ukrainian President Volodoymr Zelensky is in Washington Thursday, where he's expected at the White House to meet with President Joe Biden. Importantly, he's also soon due to meet with House Speaker Kevin McCarthy, at a moment some GOP dissenters are holding up Pentagon funding and the potential for more Ukraine aid.
McCarthy vowed Tuesday to confront and intensely question Zelensky when the two meet. He posed going into the meeting, "Is Zelensky elected to Congress? Is he our president? I don't think I have to commit anything and I think I have questions for him."
"Where's the accountability on the money we've already spent? What is the plan for victory? I think that's what the American public wants to know," McCarthy added.
Central here is the Biden and Democrat-backed effort to include an additional $24 billion in Ukraine funding. Zelensky will seek to rally Congressional Republicans behind it. 
At the start of the week Senate Majority Leader Chuck Schumer said, "And with no Ukraine funding, the proposal is an insult to Ukraine and a gift to Putin. I cannot think of a worse welcome for Zelensky who visits us this week than this House proposal, which ignores Ukraine entirely."
Toward this end of unquestionably pushing through the billions in US taxpayer dollars for Ukraine, John Fetterman says he's willing to leave the hoodie at home and finally wear a suit on the Senate floor if "jagoffs" in the House decide to "fully support Ukraine". 
Fetterman has insisted dressing like an adult toddler helped him return to work after a bout with depression

But now he says that he's willing to wear a suit if House "jagoffs" dedicate more US billions to NATO's proxy war

Turns out he's more comfortable in WWIII than a hoodie https://t.co/kPocZZVx9Y

— Max Blumenthal (@MaxBlumenthal) September 21, 2023
The Washington Post and others are meanwhile reporting on a new letter that GOP Congressional leaders sent the White House, which vows to reject the $24 billion in Ukraine aid...
In a letter viewed by The Wall Street Journal, the group says it is rejecting President Biden's request for an additional $24 billion in security, economic and humanitarian aid. The lawmakers said they have concerns about the more than $100 billion in funding Congress already has approved, complained that the administration supports an "open-ended commitment" to Ukraine and criticized what they say is an unclear strategy. It is signed by 23 House members and six senators, led by Sen. J.D. Vance (R., Ohio) and Rep. Chip Roy (R., Texas), and addressed to Shalanda Young, the director of the White House Office of Management and Budget.
Among the other signatories is Sen. Rand Paul, who has said, "It's as if no one has noticed that we have no extra money to send to Ukraine." He further pointed out that "Our deficit this year will exceed $1.5 trillion. Borrowing money from China to send it to Ukraine makes no sense."
And Sen. Vance on the proposed spending bill said: "Now you hear people talking about the long haul. Well, is the long haul a year, $100 billion, in 10 years, a trillion dollars?"
Among the key questions that the GOP letter to the White House poses are: "How is the counteroffensive going? Are the Ukrainians any closer to victory than they were 6 months ago? What is our strategy, and what is the president's exit plan?" the Republicans wrote. "It would be an absurd abdication of congressional responsibility to grant this request without knowing the answers to these questions."
Zelensky arrives at Capitol Hill in fatigues. pic.twitter.com/8vCBfqXs5h

— Citizen Free Press (@CitizenFreePres) September 21, 2023
So a fight is brewing with the hawks, of which there are plenty in the GOP. But overall, the timing couldn't be worse for Zelensky, for the many reasons we covered here.
Tyler Durden
Fri, 09/22/2023 - 06:01